Marisa: Multimedia Artist and Graphic Designer
I met Marisa on a balmy Houston day in her studio, her small but enchanting "happy place" located in the eclectic neighborhood of Montrose. Close to the city's vibrant Museum District, it's the perfect place for a mixed-media artist to find inspiration in (among too many other things to count) the city she grew up in.
Right away, I was drawn in by this artist's work by the way she juxtaposes elements: a whirlwind of tenuously connected tchotchkes and pastiched images melded together into tiny colorful worlds of their own. Marisa creates magical spaces that are just grounded enough in reality to pull on people's heartstrings — regardless of where they come from.
A designer at the Museum of Fine Arts, Houston, Marisa spends her spare time exploring new genres and mediums, honing her creative skills on anything from detailed shadow boxes to painting, a recently purchased letterpress. Here's a little insight into her alchemy: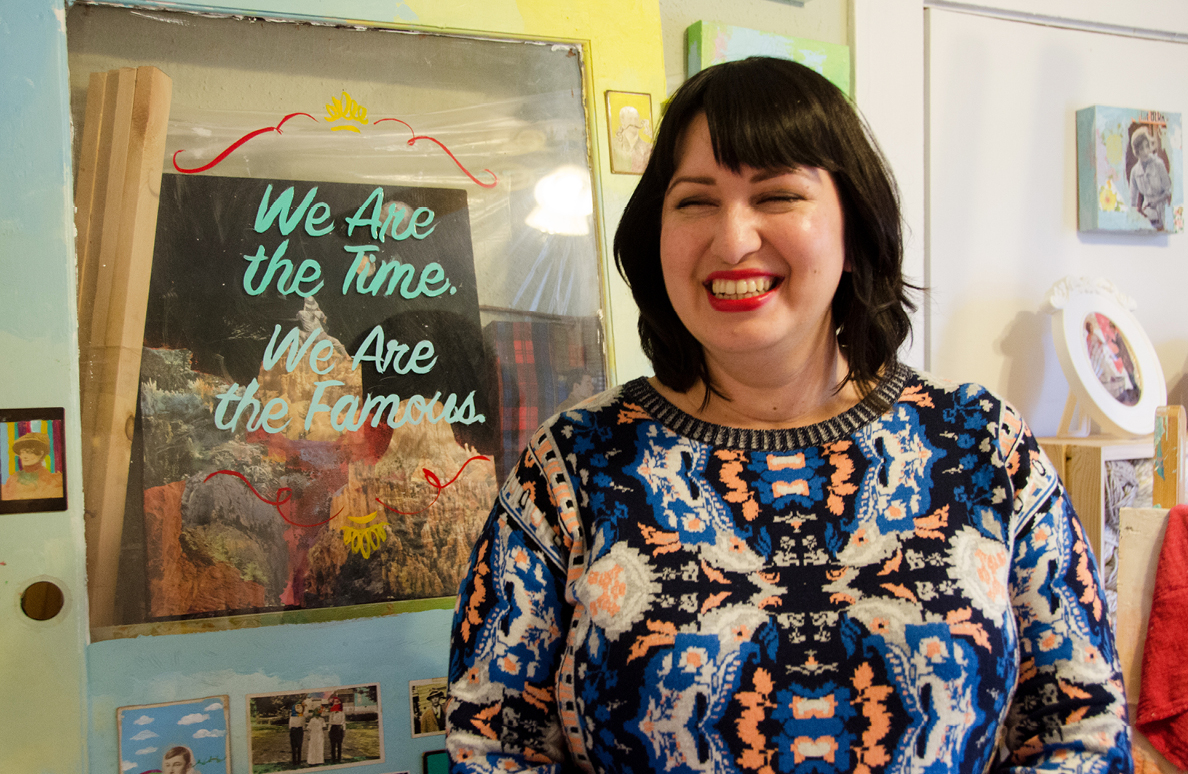 Can you tell me a little bit about how you got started in the arts?
Ever since I was little I would draw, I got obsessed with drawing. My dad was my first model, I would draw him on the couch. Just always coming up with things, a big imagination. Then I got into painting and taking art classes all through high school, college.
You went to Savannah for school?
Yes, I went there for four years and met my husband, and then came back home and we've been here ever since.
You have so many different mediums you work in. Is there something that you've been focusing on or super inspired by recently?
I like to play and dabble in everything, I paint I do mixed-media, but I also like to do embroidery, mixing fabric.
I've incorporated fabric and pattern into my art, but then I thought I might want to experiment with doing drawings on the fabric. All my pieces here I collect vintage holiday things, bottle brush trees. And put it together, so that's really what's inspiring me right now. Christmas, vintage Christmas.
A lot of what attracted me to your work, aside from color, is also the idea of bringing different objects and materials together. As well as your interest in magical realism, bringing something enchanted to everything in life. Can you tell me more about how that aspect comes into your work?
There's always strange occurrences in life, things that you can't believe are real. Or even little things every day, like driving today I saw a butterfly on a little flower and thought, "that's a sign."
So is your work about trying to capture a sense of those moments, or create your own new ones?
Capture the moment. I think I like to create joy for people, and if you look at some pieces there's a little world there. There's something going on, and I like to bring that sense of joy and wonder. I noticed last year I did a Christmas show and did a piece, and this older gentleman came up and said "that reminds me of when I was a kid. I used to have that, and you're giving me memories." I like that this piece brought his childhood back to him, memory back to him. So he said "I'm taking that" and I didn't think he would like my stuff, he was this old burly guy, but it touched him. I thought that was very sweet.
Are there any pieces that you've created that you have a really sentimental connection to?
I've done lots of different pieces, some on family. I have a painting I did, I went to El Salvador when I was 18 for the first time. I met a great uncle and he lived a very different life, and there are memories of him just leaning on a tree. I painted that.
And I painted the tropical leaves and the colors. I like to capture memories, I'm very sentimental. The past is very special to me, so I do like to capture those things in pieces and moments and feelings.
Do you have specific goals with your work, or is about reaching people and making connections?
I would love to work as a painter, but not everyone could do that. I would like to do stationery or my own graphic design. I got a little letterpress machine, and I still need to take classes, but I would like to do little invites and things. I really enjoy making little sculptures, I'm really open.
It seems like I've come across a lot of letterpress and stationery design by artists… It seems like you have to work on balancing the commercial and the art pieces in your work?
Yeah, I found that when I went to the craft fair I brought some paintings and collages and people liked them, but they really wanted something they could put on their mantle. So then I started making decorative, sweet little things people could use.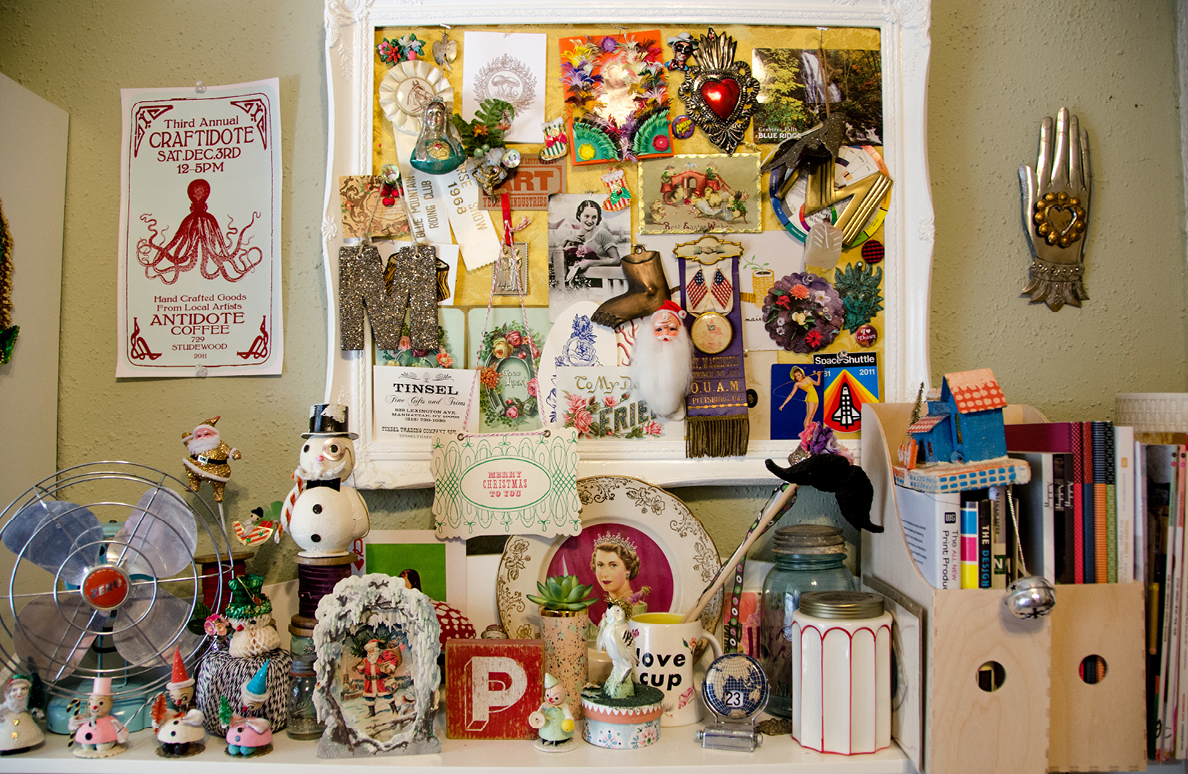 You do a lot of stuff based on location, finding things that inspire you around this city. How has that come up for you?
You know, Frida Kahlo, she's one of my favorite artists. She used to go on field trips. She would take her students to Mexico, and they would go look at the markets, go visit folk markets, and just go out and see people and see things. And so I just like to walk around and see things that inspire me. Go to thrift stores, go to antique shops or Texas Art Asylum that has a bunch of recycled art, you can just buy little things. But everything is inspiring to me, I just like to go out and explore. Just little objects, see strange or weird things and take it home, you know.
And how has that changed since you've been living here so long? How the art scene has developed?
What's cool about Houston is that there's really so much. It reminds me of New York in that way. So many parts to Houston, things are growing. The EaDo, East Downtown, that's developing.
Has it been this way your whole life or has it changed more and more?
It evolved. And also I discovered more. There's a lot going on here that's hidden. But if you look around, there's a lot under the surface.
Do you have suggestions for where to get started looking at art here? Maybe, are there certain neighborhoods people should poke around?
The Heights is a great neighborhood, Montrose is a fun place, the Museum District. But then if you go out even North Side or more neighborhoods, too. There's a great hispanic neighborhood where my mom grew up, that's the East End. She worked there. There's a lot of neat little shops, the imagery and everything is cool. There are a lot of parts to Houston.
---
A little post-script: Marisa now knows the funky, artsy side to this southern "Space City" better than most — read through her Design*Sponge Guide to Houston
see more of marisa's work: himarisa.com