Nadia, Sports Massage Therapist
Nadia Prasad and her husband Binesh have been staples in my family's athletic life for a while, and I've heard about the dueling pleasure and pain that comes out of their work for years now. Two Olympic marathoners turned seriously deep tissue massage therapists, they specialize in keeping athletes of all levels injury free, and to help rehabilitate them if they do get injured.
In September I went to Nadia for my first time, and it was definitely a memorable experience. It's not your comfortable sort of relaxing massage — this stuff is not for babies. Nadia worked her way around my body, gradually going deeper and deeper. By the time she got to my hamstrings with what I think must have been her elbows, I'm pretty sure I had actually started to cry a little. But I sucked it up and in the end it was totally worth it. Afterward I felt like a million bucks.
What's just as great about Nadia as her skills in the massage arts is that she has a spectacularly interesting past — Born in France but raised in New Caledonia by puppeteering parents, married after a romantic epistolary courtship to a fellow Olympian, and now a massage therapist to Olympic running teams, among other clients. There's no running out of things (haha, get it?) to talk about with her while you're on her table. Here's a little more about Nadia: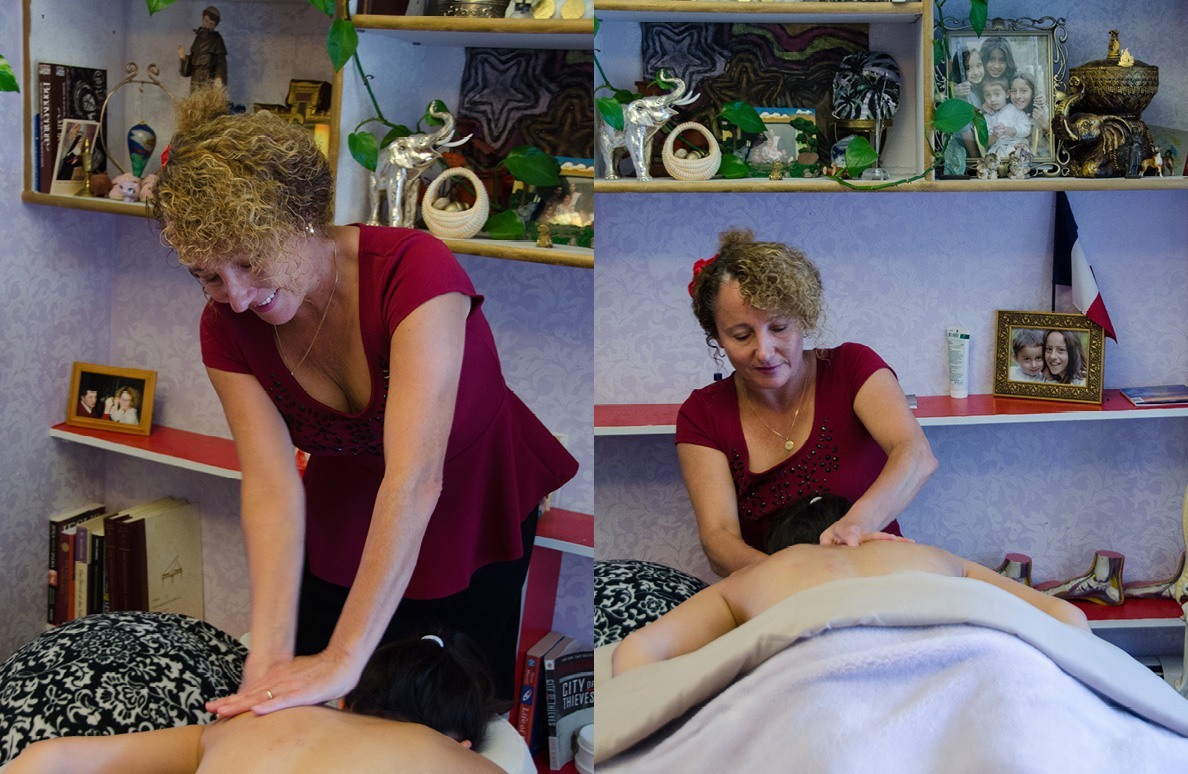 First question, just getting to know you. You have a really interesting childhood, where you're from. Can you give us a little background?
I was born in the South of France, close to Toulouse. And when I was four years old, my dad decided to move our family to New Caledonia. I grew up in the island.
The background of my family — my mom and dad are from an artist family. From generation to generation on my dad's side they were cabinet makers. And restoring also antique furniture. Also they were in the theater. My grandfather was in the Paris Opera, and my grandmother was a great singer too, also in the Opera. Doing Operettas in France, traveling all over. They never had a house, they were always in a trailer home to do their spectacles. And my mom's family, they were in puppets. Puppeteers doing
traditional French wooden puppet shows, going around to different towns in France, to all of the schools, telling morality stories.
And so they carried that tradition to New Caledonia when they moved there. My mom and dad took some of the puppets from France from generations. And they built their own. My dad built it in wood, my mom painted that and did the costumes. They performed morality stories — tails, by La Fontaine, The Fox and the Crow, The Tortoise and the Hare. And it's a 45-minute show, really really beautiful. And they've been doing that for 41 years now, for all of the schools in New Caledonia. They are performing right now for 900 children, and their work is absolutely fantastic.
HOW DID YOU start RUNNING?
When I was 12 years old, I developed an interest in sports. I wanted to be a champion
in swimming. I swam competitively from the age of 12 to 15. Intensely — I was giving it everything I had, to reach the top. But I didn't have the body of a swimmer, so I had a plateau. Although I was winning a lot of competitions there, it was a limit, I couldn't make it to the Olympics. I could have never done that.
The dad of another swimmer wanted during the winter season to have all of us start running so we could be fit for the next season. When I started this, I felt amazing. I could run, and I would not tire. And this dad said, "You know, you should switch from swimming to running." I couldn't think of it, swimming was my first love. But he said, "Ok, so let's make a bet. There's a big race. And if you win it, you stop swimming and you start running." And, that's what I did. I won it by far, and in winning I made it into the South Pacific Games. And I started a completely different branch of my life.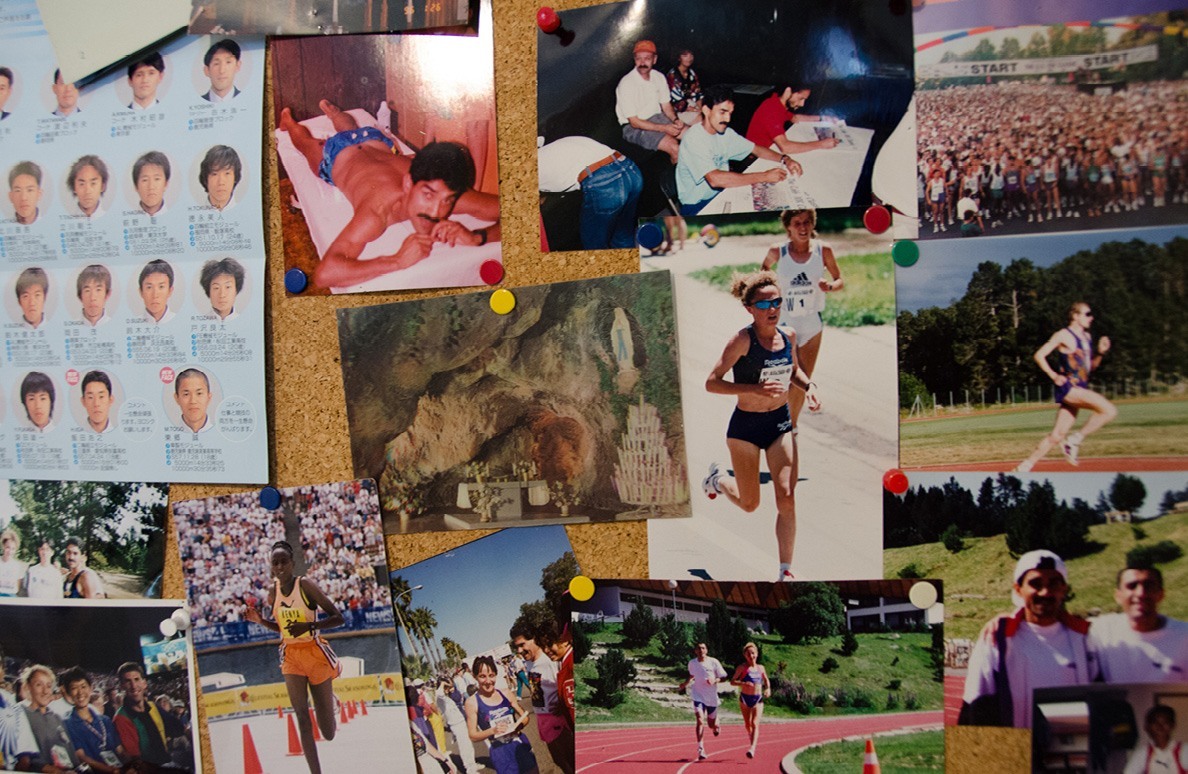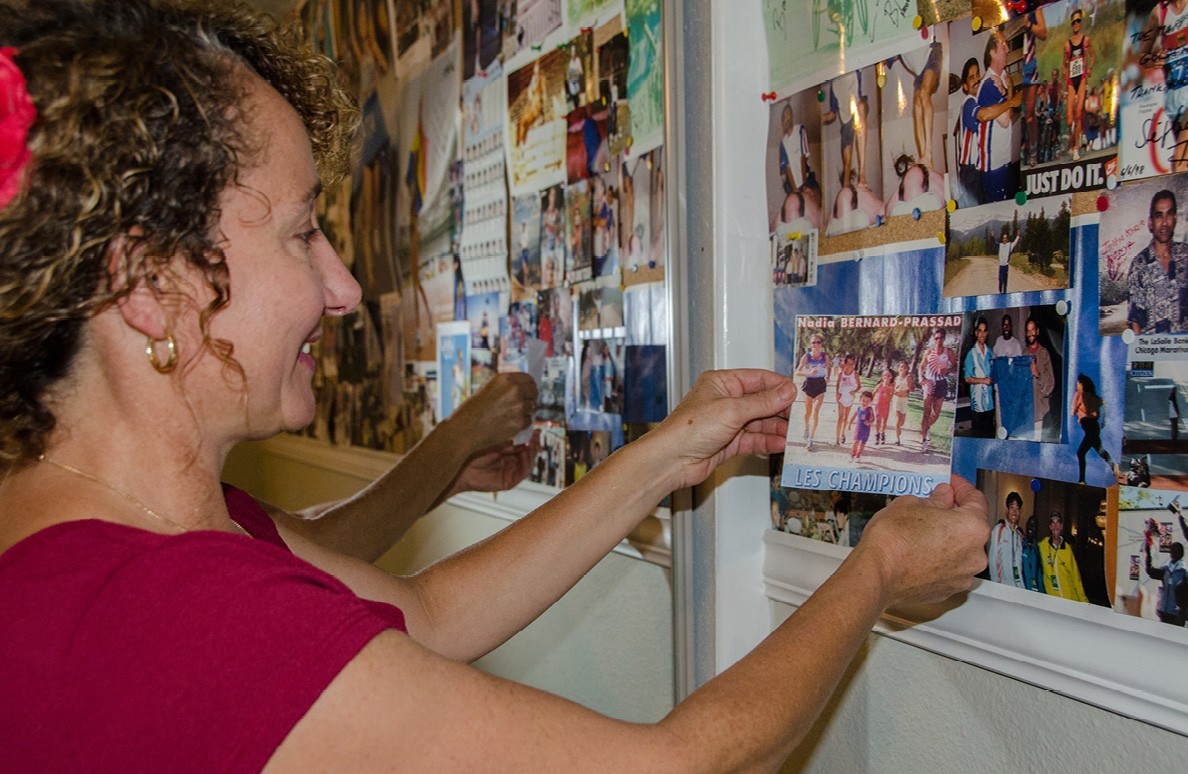 And that's how I met my husband. He was running for Fiji Islands. He was the best runner for Fiji, I was the best for New Caledonia, and we met and we wrote for three years. I didn't know English, so I had to translate every letter. I was writing in French, I had a dictionary and had to translate word by word. It was taking three hours to write one letter. And we wrote once or twice a week, for three years. We hardly saw each other. There were no dates or anything. He was moving to US from Fiji and we really wanted to get married. So I left New Caledonia and came to the US.
I started running more competitively. That's when with my husband I intensely trained. We were based in Utah, then we moved here to Boulder after training, running the BolderBoulder we fell in love with the place. And then we moved here in 1994 to completely focus in running, in our performance. And then I made the Olympic team for France in 1996, I ran the marathon.
And 1993 - 1997 were my best running years. Then when I started to have kids, my desire dropped. I really wanted to take care of my babies, but at the same time I want to have a career. I completely understand about the body, about injuries, about everything, and my husband went into massage therapy in 1995, so I decided to pursue the same goal and I ended up in massage school during my pregnancy with my youngest - my son Aiden. I became a massage therapist right when he was born, it was a nine months intensive program.
Perfectly timed!
Exactly, it was the perfect time. And I start immediately working with him on Japanese teams, and that's when our life of massage therapy started. To really work on people, and fix the problems that they have. To rehabilitate them. Not only just to massage something, but to feel the body. Because we could understand so much from training, from getting hurt so many times. It was, it is part of our life.
We love to help people to make them at the utmost performance.
How do you work with the Japanese team?
It started when we were running at a high level, going all over the world. I went to go compete in Japan, so we knew a lot of the coaches there. When we stopped running and started massaging, we knew about all of the teams and they knew about our work, and immediately wanted us to work with all of the athletes. My husband worked with the athletes from 1996, and I started in 2001 after Aiden was born.
We worked on high mileage runners, to prevent injuries. We got an athlete who got a Gold Medal in World Championships, and the first Japanese athlete who got the Gold Medal in the Olympic Games in 2000. And the next athletes who won in 2004 and 2008. We worked on all of these athletes as they won World Championships.
It really boosts our careers as massage therapists, because we can see the results of our work. Of course it's their work from training hard, you know, they won the medal. But avoiding injuries, it's the most important thing. Because when you train as a high level, you go beyond your limits and it's easy to get injured. You have to be specifically worked on to avoid this, and when we work with our athletes, we can feel like injuries are coming up. So we work on the calf, work on the tendonitis, and smooth the muscle out for it to be stronger instead of it going to the weak side. So they are able to do almost 200 miles a week, and you couldn't do that if you didn't have regular massages.
And you want to get to know their bodies, specifically...
Completely. You see them completely changing. We have a team, we work on, it's actually the best team in Japan. Where the first girl was the first one to break 2:20 in the Marathon, and she won the Gold in 2000.
And that's the same team who comes every year, they bought a house here, and they have 10 athletes right now. Very young athletes coming out of high school, and some athletes who have been there for years.
When they come from Japan their body is very soft — they take a break, too. They can't train all year long. As they train here, you see the body transforming. You massage them three times a week and we see the muscle really building up quickly. It's amazing, the transformation you see in two months. One soft body to, a warrior. Ready to go to the games, and any races. It's so interesting, the experience we get.
And is that the best part of your job?
What is the most reward for me is when I have a client coming who is really hurting. They feel miserable in their life — if you're not well in your body, you're not well all around. And when I am able to help them, and see them
leaving the room after the massage, and they feel so good and light, and now they're ready they're smiling. It's the best reward because you were able to help that person do be doing the best they can in life, to be happy. To be able to forward their energy now, not to suffer.
Relieving people from the suffering that they have, it's the best gift that we can give. A lot of problems people have, I've learned from experience, is posture. Having the bad posture and not taking care of your body, over time you build up little problems. Seeing that, I am able to immediately feel it in the body. And it's almost like there's an instinct, you look at a person and your hands guide you to where the problems are. You can feel, you can work on it specifically. So I don't have a specific routine where I will do this, like Swedish Massage. I know that I might spend more time on the back or on calfs, or on the glutes depending on where more problems are. And seeing that person leaving and feeling great, is the best thing.
Nadia and Binesh also run the local Boulder Twin Lakes Inn, where many of their international massage clients stay while training in Boulder.